Front End (visible to visitors & exhibitors)
Your event starts with a great customised event landing page.
The landing page is customised to your specifications and branding needs .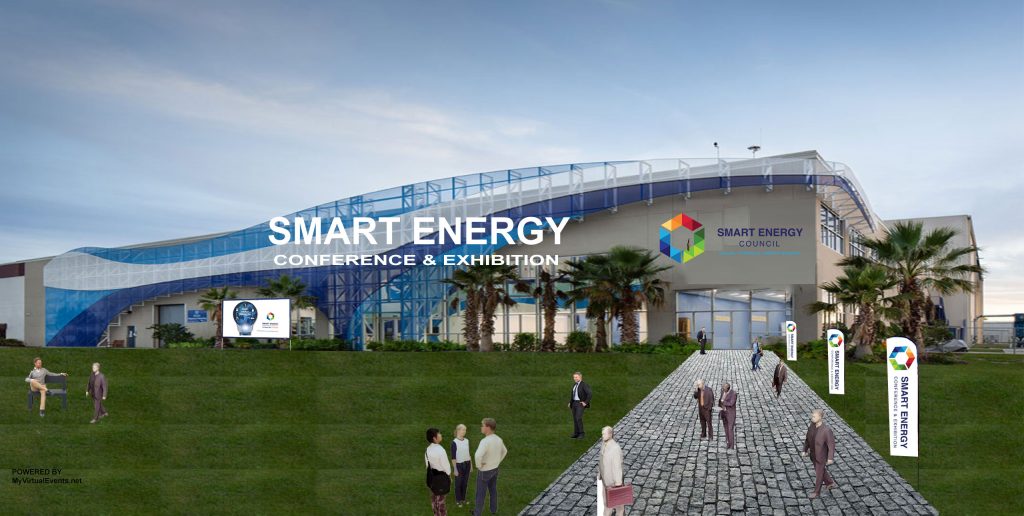 Your visitors will then be able to go to your customised registration page. You will be able to capture any data and have as many fields as you need, to better understand and serve your visitors and exhibitors.
Once a visitor is registered to attend the event, they will be able to go into your event virtual lobby and with our Smart matching service, they can receive an SMS or email with a recommended stand list to visit.
Your exhibition hall can include an unlimited number of exhibition stands.
You can set an express entry to VIP exhibitors (or all stands) from anywhere within the platform or have a floorplan express entry (display the list of all exhibitors at all time or as a pop up on click)
You can also have a welcome video to welcome and guide your visitors.
You can choose between a Carousel, 2D or 3D options as well as a virtual hall or a replicate of a real venue floorplan, and utilise our 2D and 3D drawing of real exhibition stands.
Each exhibition hall can have TV screens and signage per your requirements specifications and branding.
Each exhibitor can have a "Hot Products" button or you can have a "Hot products" stand, displaying all exhibitors hot products in one place.


Face to face communication is the key to a successful event.
Visitors can have a video, audio & text chat one on one with each exhibitor as well as with the live help desk & live technical support.
With our Gamification options, visitors can play bingo, treasure hunt, and trivia and win great prizes.

Once a visitor has entered the exhibition hall, they will be able to visit each stand, watch videos, download brochures and play games (as well as chat with the exhibitor face to face – like in a real event).
Once a visitor has entered the Auditorium, they can visit multiple sessions and watch live, pre-recorded, or on-demand videos.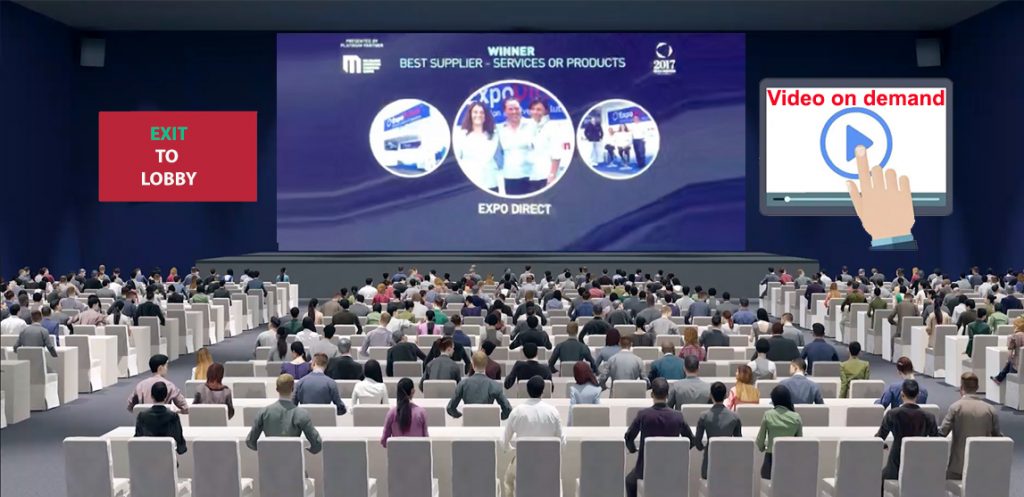 Our platform can support up to 250,000 visitors simultaneously.
Visitors can also visit the networking lounge & round table whenever they feel like and chat with other attendees – like in a real event.
Back End (visible to the event organiser & exhibitors)
Each one of your exhibitors will have the option to choose one of our pre-designed outstanding exhibition stands to represent their branding requirement, utilising 2D & 3D drawing of real exhibition stands.
Exhibitors can also use a 3rd party design or utilise our in-house design team for a full custom stand design.
All stands are loaded with interactive features (hot spots) that engage visitors: gamification, live chat, videos, brochures and more.

Exhibitor contact details can be displayed on the stand via "click & go" or a pop-up window.

Event Reporting
The event organiser and each exhibitor will receive a full event report including the number of registered visitors, attendees (unique and total) for each room/hall as well as an individual stand report (clicks on materials) and more.
The report will allow you to measure your ROI, learn what attracted more visitors, and help you with your post-event follow-up.
And of course, your visitors do not need to download any software or app. Our platform can work on any device with an internet connection anywhere in the world.