Step Into The Future of Events
Events and exhibitions are a crucial part of the eco. It's where people meet, mingle, buy, and sell. It's where we make connections, discover networking opportunities, and find loyal clients. But – all it takes is a global pandemic to change the way we meet. Mingle. Buy. Sell. However, that doesn't mean we can't still make those connections, friends, and clients, while saving on costs and hosting events on any budget.
All we need to do…is think a little differently.
Expo Direct has been pioneering the exhibition and event industry since 2008, and now, we're turning our decades of experience into a virtual and hybrid exhibition and event platform that will keep the industry alive in 2021 and beyond.
Our Virtual Event Platform connects & engages people – without borders.
Adhere to social distancing measures with hybrid events that keep physical gatherings alive, while adding a virtual online component that allows you to bring in more visitors from around the world. Currently, it's unclear when in-person exhibitions will be allowed again consistently, uninterrupted by sudden lockdowns. Until that time, virtual events and exhibitions offer a reliable alternative.
Virtual events are just as real as the real thing.
You can video chat LIVE with customers directly and help them find what they need with fewer distractions. This also allows you to get to know your customers and their needs better.
What We Do:
√ Virtual Trade Shows…
√ Virtual Exhibitions…
√ Virtual presentation room…
√ Virtual Open Days…
√ Virtual Fairs and Events…
√ Virtual Conferences…
Our platform connects & engages peoples – without borders.
At Virtual Events, our philosophy is that if it can be done offline, it can be done online too. We are absolutely passionate about bringing events to life and into the world, with even more flexibility than you'd get through a physical event alone. Work with us to host your event, locally and/or globally, from anywhere in the world. Guests can join in the fun from anywhere, on any device.
The Tech Behind The Scenes
Virtual Events uses advanced 2D and 3D technology to host virtual trade shows, events, conferences, and more, with integrated video chat, webinars, and exciting digital content.
All of this is backed by state of the art technology, hardware & security as well as uncompromised 24/7 customer and technical support for your peace of mind.
Go Hybrid
Going virtual doesn't mean forgetting physical. Our hybrid events mean you can combine a live and in-person conference with a virtual counterpart online, compromising nothing. Hybrid events are a powerful way to boost attendee engagement, showing you care by helping people attend even if they can't physically be there.
2D + 3D
Virtual Events provides both 2D and 3D event solutions to push your function to the next level. Contact us to learn more & start experience the difference.
Watch the video below to learn more about our solutions and to see how our virtual event platform connects and engages people.
Our Solutions
Trade shows, exhibitions and showrooms are crucial for most businesses and cannot be replaced. With tighter social distancing measures, you may get fewer visitors or may not be given a chance to exhibit at all. Our Virtual Events Platform connects & engages people, allowing you to maximise your ROI by taking your exhibits and products online too.
Our Virtual & Hybrid Event Solutions brings your event to life with the flexibility of having a physical event, virtual event, or both – locally or anywhere in the world.
√ Virtual Trade Shows.
Give your local and international guests an experience they'll never forget, and showcase your products through an affordable online trade show. Supercharge lead generation with tailored virtual booths, chat forums, and easy online transactions.
√ Virtual Exhibitions.
As your virtual event partner, we'll help you plan the ultimate virtual exhibition with as many online stands as you need.
√ Virtual Presentation Room.
Let students and business present their paper (or presentation) in a secure ground-breaking virtual environment.
The virtual presentation room is the ideals solution for university students, to present their work and network with other students and visitors.
√ Virtual Open Days.
Let potential students get a taste of college life with a virtual open day. Let them explore your facility, meet faculty, and more, all from the palm of their hand.
√ Virtual Fairs and Events.
Invite guests to be entertained with career fairs, technology introductions, and more, all in a ground-breaking virtual environment.
√ Virtual Conferences.
Connect and collaborate with your team, locally and globally, in a professional conference setting that delivers all the features you need to co-operate with confidence.
Our Customised Virtual Hall Reception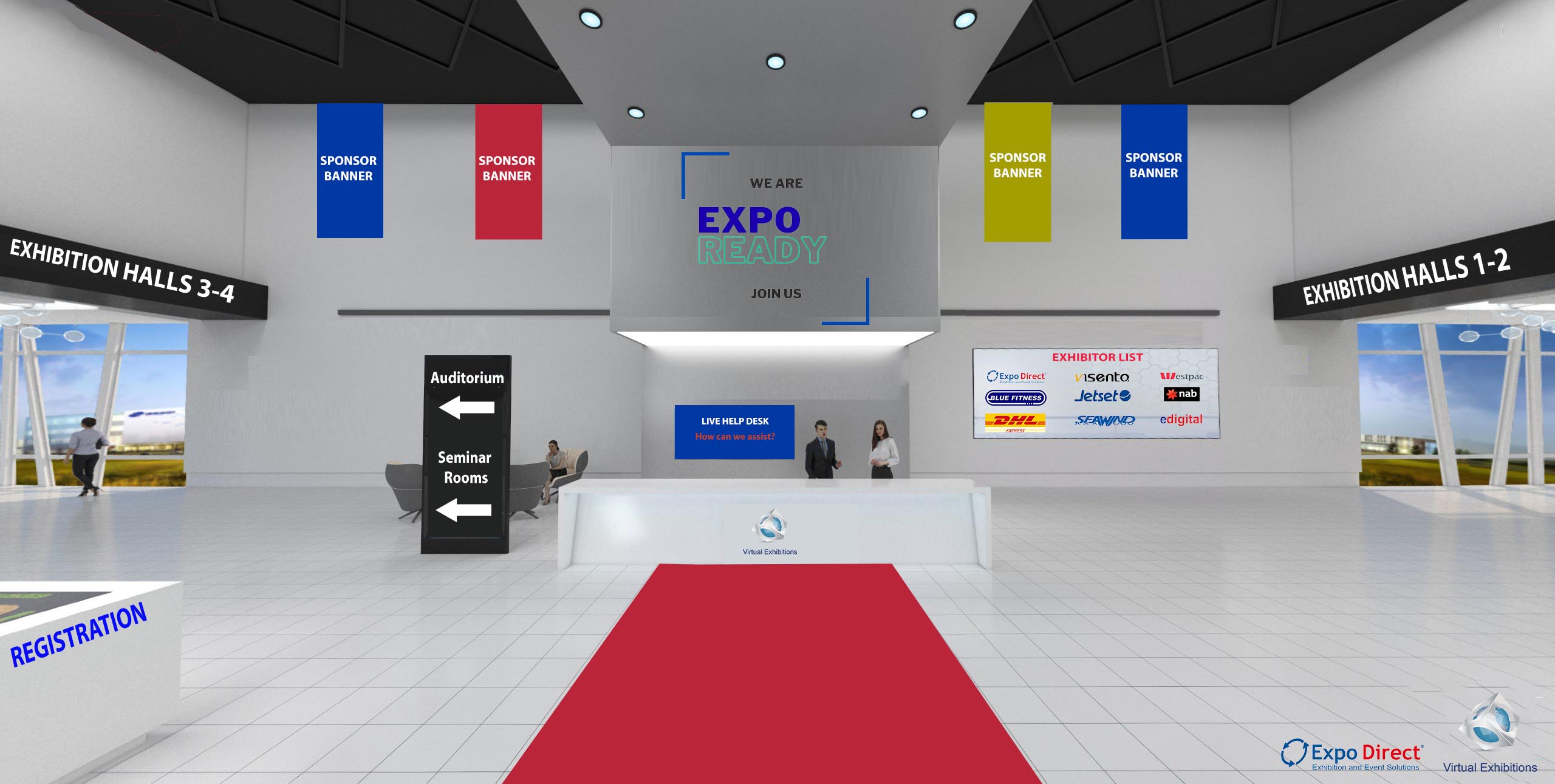 Our 3D Virtual Exhibition Hall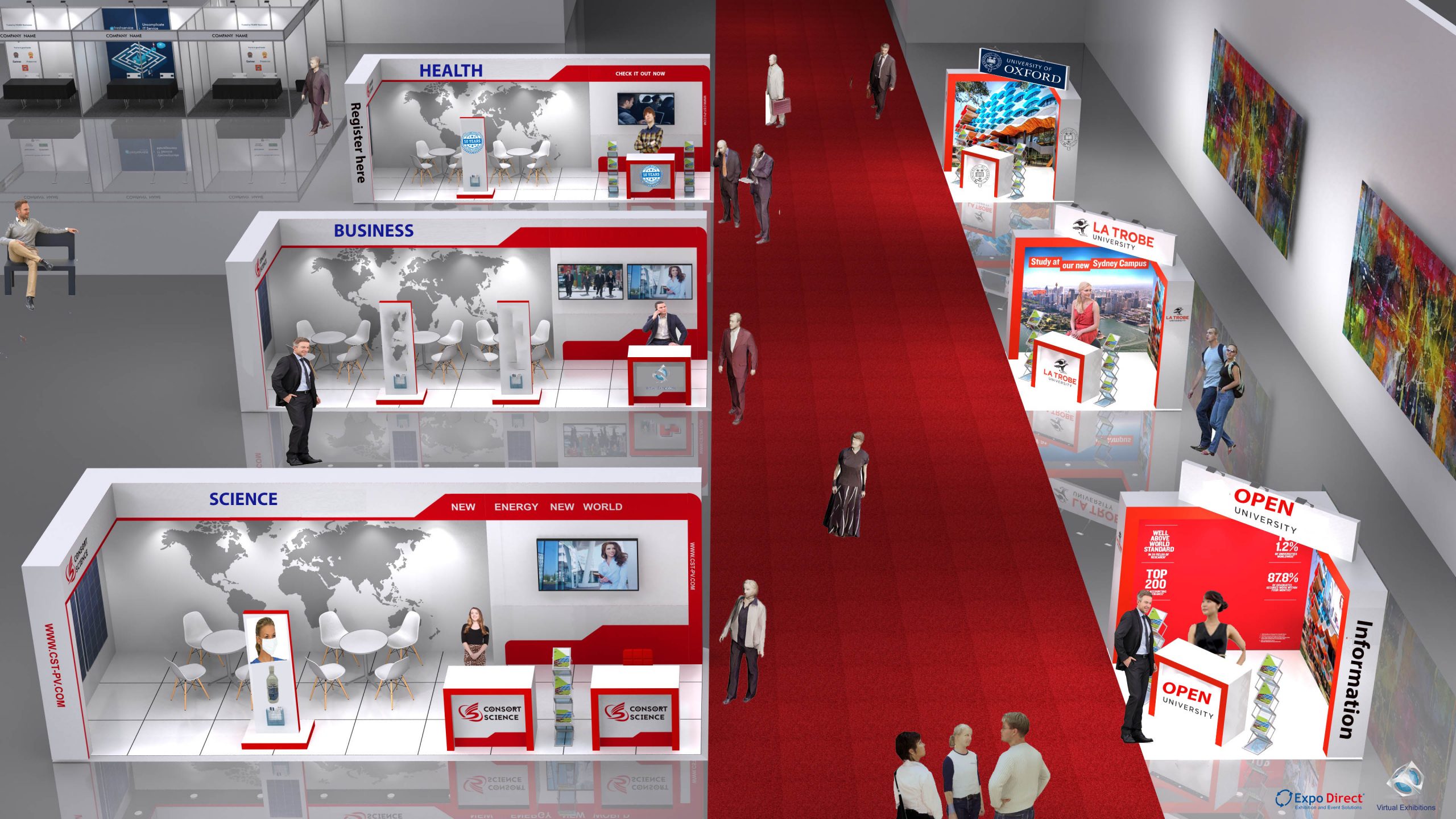 Our Virtual Auditorium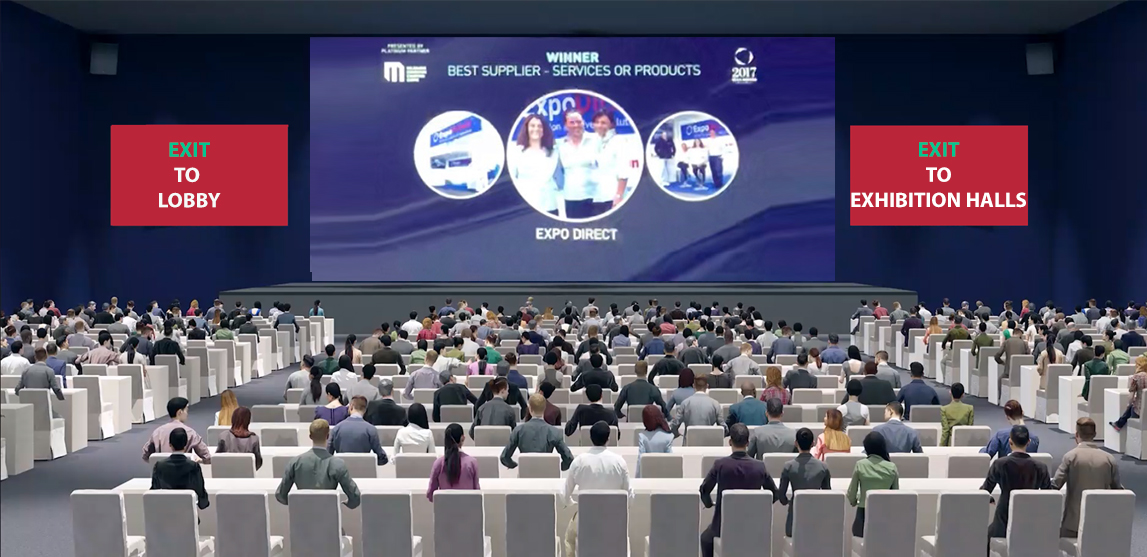 WANT TO KNOW MORE ABOUT OUR SOLUTIONS? CURIOUS WHAT ELSE WE CAN DO? Get in touch or Request a demo